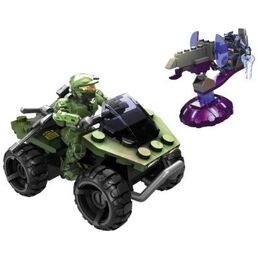 "The UNSC Mongoose is the military's all-terrain light vehicle capable of battlefield reconnaissance and high-speed rapid assault maneuvers. A Covenant Elite attempts to eliminate the driver with its Turret – the Mongoose's small size and speed makes it a nearly impossible task."
-Discription By Mega Bloks
$9.99 (Plus Tax.)
Ad blocker interference detected!
Wikia is a free-to-use site that makes money from advertising. We have a modified experience for viewers using ad blockers

Wikia is not accessible if you've made further modifications. Remove the custom ad blocker rule(s) and the page will load as expected.