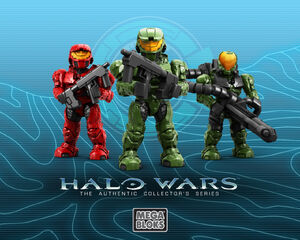 Welcome to the Wiki
Edit
Welcome to the Halo Mega Bloks wiki. We're a collaborative community website about Halo Related Mega Bloks that anyone, including you, can edit. Click the edit button at the top of any page to get started!
We need a lot of help so be sure to add your knowledge But please do not add any information that is untrue because this wiki is for everyone to view and one piece of wrong information can be misleading, also please note this wiki is for people ages 8 and up so don't use really technical language, make it simple and enjoy!This is one of the best things I have ever got! I mean I spend so much time with these I highly suggest it! Im never done collecting these, they rock! You should always collect Halo Mega Bloks! They are the best! I suggest that you start with the Arctic Combat Unit!Sets
Ad blocker interference detected!
Wikia is a free-to-use site that makes money from advertising. We have a modified experience for viewers using ad blockers

Wikia is not accessible if you've made further modifications. Remove the custom ad blocker rule(s) and the page will load as expected.